Assistant Professor, Psychology

​Michaeline earned her Ph.D. in Psychology in 2016 from Arizona State University, and completed her Bachelor's at the University of Arizona in 2008. Her research focuses on the role of social contexts in adolescent development, with an emphasis on using novel tools to understand the parent-child relationship and the cultural environments within which these relationships are embedded.
EMILY HASTON

Post Bac RA

Emily earned her B.A. in psychology from UNC Chapel Hill in 2018, with minors in Hispanic Studies and Social and Economic Justice. She is serving Teach for America as a Spanish teacher at Grimsley High School in Greensboro. Emily worked as coder of parent-child text message interactions during her time at UNC-Chapel Hill, and her current role in the IRL is as a volunteer post-bac RA.

MICHELE CHAN

Graduate RA

Michele Chan is a first-year graduate student in the clinical psychology doctoral program. She completed her B.S in psychology and biology from the University of Georgia. She then went on to earn her M.A in psychology from Wake Forest University. Topics of research interest include how ethnic-racial identity, adolescent relationships, ethnic-racial socialization, discrimination, and culture influence the psychosocial adjustment of minority and underserved populations, particularly those of multiracial backgrounds.

MICHAEL PUERTO

Undergrad RA

Michael is majoring in psychology at UNCG. He is interested in Social Psychology and non-verbal communication. Michael enjoys skateboarding and rollerblading. He says that he is half Honduran, and that in Honduras, he has eaten Iguana eggs.

XIADANI AVILA ​

Undergrad RA

Xiadani is senior at UNCG majoring in Psychology with an interest in Clinical Psychology. Xiadani loves latin music, writing, and exploring her Mexican heritage. Her role on the IRL team is working as an undergraduate Research Assistant.
Powered by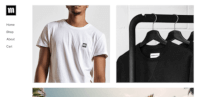 Create your own unique website with customizable templates.